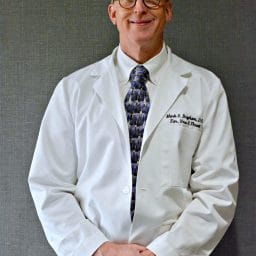 Dr. Brigham founded Mark S. Brigham DO Inc. more than 20 years ago with a focus of helping patients of all ages manage their ear, nose and throat disorders through medical and surgical interventions.
Dr. Brigham attended Kent State for his undergraduate studies and Ohio University for medical school. He a member of the American Academy of Otolaryngology and American Osteopathic College of Ophthalmology and Otolaryngology. His primary areas of focus includes allergies, sinus disease, sleep apnea and hearing loss.
Raised in northeast Ohio, Dr. Brigham enjoys working and supporting Wadsworth and the surrounding communities. In his free time, he enjoys sailing on Lake Erie with friends, walking his dogs in the park, running 5ks, half marathons and duathlons and assembling jigsaw puzzles.