Speech Sound Disorders
A speech sound disorder occurs when a person has difficulty producing speech sounds, affecting his or her ability to communicate. Children often make mistakes as their vocabulary grows, but a speech sound disorder occurs past the age at which they are expected to know how to make the correct sounds.
Sometimes, speech sound disorders continue into adulthood. Other adults develop speech problems following a stroke or traumatic head injury.
Types of Speech Sound Disorders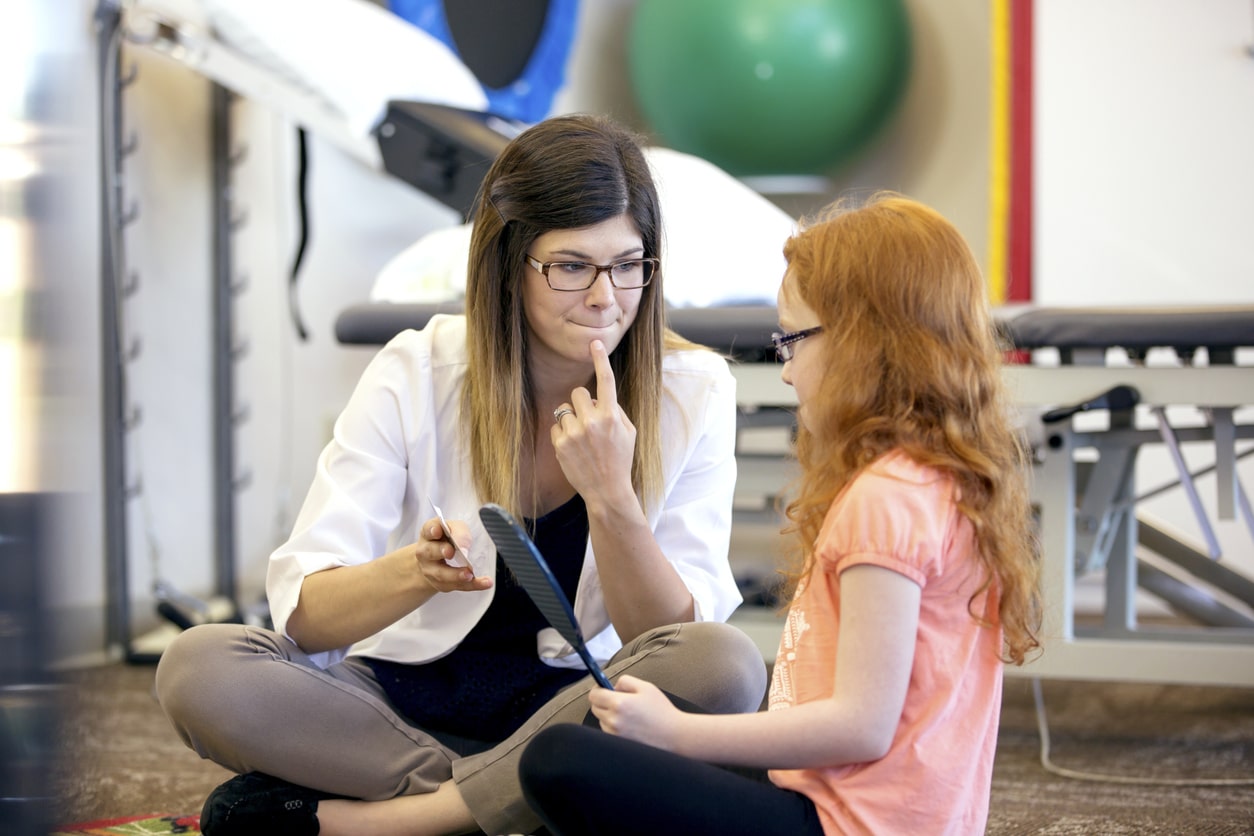 There are two main types of speech sound disorders: articulation disorders and phonological disorders.
Articulation disorders involve problems making sounds. Sounds may be substituted, omitted, added or distorted. This results in speech that is difficult for others to understand. Common problems include substituting the letter "r" with "w" ("wabbit" for "rabbit"), shortening words or speaking with a lisp.
Phonological disorders involve patterns of sound errors. Mistakes are made with entire groups of words; for instance, sounds made in the back of the mouth may be substituted with sounds made in the front of the mouth, e.g. substituting the letter "d" for "g" ("got" for "dot"). People with phonological disorders are often able to hear these errors when others speak, without picking up on their own mistakes.
Causes & Treatment
Many times, the cause of speech sound disorders is unknown. Children may not learn how to correctly pronounce certain sounds, and this can carry over into adulthood. Other times, the cause is physical in nature. Developmental disorders, genetic syndromes, neurological disorders, hearing loss and other illnesses may all contribute to speech sound disorders.
A speech-language pathologist (SLP) will thoroughly evaluate a patient to determine the cause of the disorder and recommend a course of treatment. He or she will work closely with the individual to improve articulation, reduce errors and demonstrate which sounds are correct and how to recognize when they are incorrect.
Swallowing Disorders
When you swallow, you are chewing food and moving it to the esophagus, a tube that connects to the stomach. Dysphagia, the medical term for difficulty swallowing, is characterized by the sensation of food or liquid getting stuck in the throat or chest. There are numerous factors that can cause swallowing difficulty, most of them fairly benign.
The Swallowing Process
Few of us give much thought to the act of swallowing, but it's actually a complex process that involves around 50 pairs of muscles and nerves.
There are four stages that make up the swallowing process:
Stage 1: Oral preparation stage.Food is chewed to prepare for swallowing.
Stage 2: Oral stage. The tongue pushes food or liquid to the back of the mouth.
Stage 3: Pharyngeal stage.Food or liquid passes through the pharynx into the esophagus.
Stage 4: Esophageal stage.Food or liquid passes through the esophagus and enters the stomach.
Symptoms & Causes of Swallowing Disorders
Swallowing disorders indicate persistent problems with chewing and swallowing. The main symptoms are discomfort when swallowing, chest pain and the feeling that food or liquid is getting stuck in the throat or chest. Additionally, you may experience drooling, heartburn, nausea, wheezing, coughing, regurgitation, sore throat and a sour taste in the mouth.
Causes of dysphagia are diverse. They may originate in the esophagus and include diffuse spasm, an improperly relaxed sphincter, weak esophageal muscles, a narrow esophagus or esophageal ring, the presence of foreign bodies, gastroesophageal reflux disease (GERD), a hardening of the tissues called scleroderma and tumors.
In addition, the muscles and nerves responsible for swallowing can weaken as a result of neurological disorders, pharyngeal diverticula or cancer. Children may have difficulty swallowing if they suffer from certain nervous system disorders or a cleft palate.
Treatment for Swallowing Disorders
Treatment for swallowing disorders depends on the underlying cause and where the problem originates. Medication, surgery and swallowing therapy are the most common types of treatments administered. Medications include antacids, muscle relaxants and drugs to limit the amount of stomach acid produced.
A surgical procedure to stretch or dilate the esophagus when it is too narrow often helps resolve the issue. Swallowing therapy involving chewing and swallowing techniques can help stimulate the muscles and nerves responsible for swallowing. The most severe cases of dysphagia may require a liquid diet or feeding tube.
Call Mark S. Brigham DO at (330) 336-8717 for more information or to schedule an appointment.